Wisdom University: Testimonials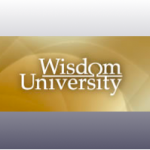 I've rarely had a class where I wanted to respond to all the questions. The books I've read and the teleconferences I've joined furthering the concepts from this class have been great.  I hope you teach another class  at WU because I'd like the opportunity to explore these ideas on a deeper level.
—Greg Katz, The Power of Story
Thank you, so much, Christian . . . I thought I was just taking a "filler" class, and instead, took something that I SO needed at just the right time. I'm still digesting, but most of all, the conversations and teachings are actually helping me heal.  [Your course] has given me one of the greatest tools for my own personal, spiritual and professional healing than I can even begin to express!  Thank you for your continued dedication to the passion for wisdom!
—Pat Langlois, The Power of Story
Thank you so much for your quick return of my paper and obvious, in-depth look at my ideas. I have really benefited from this experience and thank you for making it possible.
—Donna Butman, The Power of Story